Jena
Overview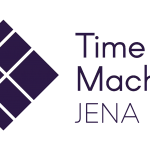 The Jena Time Machine comprises various activities to research, preserve and communicate the history of the city by digital means.
Activities are carried out via various projects, e.g.:
Time Machine Project Center Jena
The project center supports the European Time Machine project. It is funded by the Thuringian Ministry of Science via TAB and includes the operation of the German contact point as well as the preparation of three feasibility studies:
Automated NLP/AI-based trend scouting tools for monitoring scientific articles and publications.
A highly automated modeling pipeline for browser-based mobile 4D city visualizations.
Multimodal analysis of user requirements for 4D visualizations.
Project duration: June 1, 2020 – November 30, 2020
Modellathon – Digital 3D-Reconstruction Hackathon
The three-dimensional representation of historical objects and architecture is an important field in the Digital Humanities and holds great potential for both science communication and the communication of history in terms of public history. In the course of a modelling competition, a competition for the 3D reconstruction of cultural heritage, students are to digitally model architectural cultural heritage in 3D using CAD programs in the course of the winter semester 2020/2021 on the basis of historical sources. The results in the form of 3D models, films or image series as well as associated texts with background information on the respective project will be presented to the public via a weblog accompanying the project. The best works will then be awarded by an expert jury with cash and non-cash prizes totalling 1,000.00 euros.
Duration: 01.10.2020 – 28.02.2021
Competition blog: https://modellathon.hypotheses.org/
Cultural Heritage 4D
In contrast to established approaches such as 3D representations, 4D aims at the 3D representation of temporal developments and thus makes changes in cultural and monumental history visually tangible. Against this background, it enables an immediate and intuitive visualization of buildings, landscapes and related temporal processes.
Against this background, the project aims to make the diversity and processes of change of architectural monuments in the urban context visible and tangible in a virtual way, especially for children and young people, but also for residents and tourists. A cultural historical information interest in the sense of a "virtual city tour" and a "visual history book" is to be combined with the transfer of knowledge about monuments and about anthropogenic influencing factors and protective measures. The core target group within the framework of the project are young people aged approx. 12 years, a later extension to other target groups is possible. The project approach is based on the development of a technological pipeline for the highly automated creation of 4D city models using image sources. This enables browser-based 4D model creation and visualization on mobile devices, which in turn is enriched by information content on anthropogenic factors of influence, which was created in the context of courses by students as well as by initiatives on urban history. This information offer addresses tourists and residents as recipients. With the named focal points, the proposed project offers several unique approaches, both technologically and didactically.
Duration: 01.07.2020 – 31.12.2021
HistKI – Investigation, modelling and multimodal AI-based support of image source research and criticism as a complex and fundamental historical scientific working technique
Photographs and other images of architecture serve in many historical sciences as a source and basis for subject- and theory specific investigations. For example, historical photographs are used to reconstruct the condition of a building or to identify the formal language of an era. The starting point for these scenarios from the fields of architecture, art history and cultural studies is a source research and criticism supported by aids from the respective disciplines, on which further evaluations and uses in the scientific context are based.
Although AI-based methods of computer vision have developed considerably in recent years, they can only support the process of source research and criticism to a limited extent, e.g. for the exploration of image repositories or the retrieval of images. This is due in part to the fact that although elementary procedures in this regard are well documented, scientists – as investigated in three dissertation projects under the supervision of the coordinator – proceed very individually. On the other hand, AI image processing has so far not been designed to contextualize pictorial content in a multimodal way, i.e. to combine different source genres such as images and texts. Existing methods of computer vision extract purely visual features and classify them, while texts or metadata and the knowledge contained therein, such as references to temporal contexts or individual motifs, cannot be linked to the analysis.
The proposed project HistKI aims to explore the support and modelling of image source research and critique as a complex and fundamental historiographical working technique using multimodal AI-based procedures. Related subquestions are: How do historians and other specialists find and evaluate image sources? Which generic approaches and subproblems can be identified for this purpose? How can this be promoted with AI-based approaches? How do AI techniques affect the research process in the humanities?
These questions are to be examined on the basis of selected scenarios in which images, texts and 3D models describing architectural objects and urban planning ensembles interact synergistically for an analysis process. This is illustrated in Figure 1 by means of existing photographs of the crown gate of the baroque Zwinger in Dresden, which at first glance are visually very similar, but show two completely different perspectives of the same object, which can be deduced from the existing captions, i.e. textual sources. With the help of machine learning methods, object sources and text sources (e.g., captions) will be linked in HistKI to allow a detailed contextualization and location of the photographs in the future, thus going a significant step beyond previous methods of distant viewing.
Project duration: January 1, 2021 – December 31, 2023
Project participants: Consortium partners: LMU Munich, JMU Würzburg
Project partners
Associated partners
other partners
ThULB Thuringian University and State Library