The online meeting will bring together researchers of the European University for Smart Urban Coastal Sustainability – EU-CONEXUS to present their activities in the transdisciplinary field of Digital Humanities.
Federating Digital Humanities
This study day is part of a process of federating research in Digital Humanities within the European University. The aim is to create an EU-CONEXUS master's degree specialising in Digital Humanities as well as a Centre of Digital Humanities based at La Rochelle Université. The researchers involved in this project are currently from the universities of Rostock, Zadar (TMO-member), Universidad Católica de Valencia and La Rochelle Université.
The project to federate research and activities in digital humanities within the European University first emerged at La Rochelle Université through a collaboration between the L3i laboratory and the CRHIA laboratory.
Integrating European Projects
An initial reflection revealed that for more than fifteen years, La Rochelle Université has supported scientific projects in Digital Humanities, the first of which were carried out by computer science research. Today, regional and international projects are conducted in this field, such as the European H2020 Newseye programme (2018-2021, L3i Laboratory). These projects involve both researchers in computer science and humanities, mainly historians (LIENSs Laboratory).
But research in Digital Humanities at La Rochelle Université has also diversified and developed in other fields such as Performing Arts (ESNA 2021-24 regional project, CRHIA Laboratory) as well as in didactics. The aim being to create digital resources and tools with the Erasmus + Partnership DiMPAH project.
Furthermore, the creation of EU-CONEXUS in July 2019 as part of the EUropean Commission's Erasmus+ call, allowed the identification of a certain number of researchers in the partner universities (Universidad Católica de Valencia, University of Zadar, University of Rostock). The Humanities disciplines involved are rather those of historical and cultural studies including digital history, theatre studies, art history, philosophy, information science and language science. As far as computer science is concerned, there are researchers in automatic language processing, databases and data science.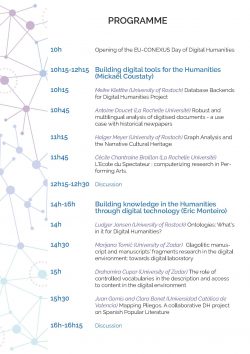 Contact : cecile.chantraine_braillon@univ-lr.fr – antoine.doucet@univ-lr.fr