TMO's interregional partnership project will be supported under the S3 Platform funding scheme for "Sustainable and Digital Tourism"
Within the framework of the European Union's coronavirus response and recovery plan, the Commission has initiated a new support action for interregional partnerships, aiming to mobilise regional and national innovation actors to address the impact of coronavirus. This new pilot action, which builds on the successful experience of a similar action on "interregional innovation projects" launched in late 2017, now supports interregional partnerships in four different areas: coronavirus-related innovative solutions, circular economy in health, sustainable and digital tourism, and hydrogen technologies in carbon-intensive regions.
Our Project Scouting Team successfully submitted and will lead an interregional cooperation project, intending to explore the possibilities of using Big Data of the Past, 4D simulations and other relevant tools to support virtual and smart tourism. The one-year pilot phase of the project officially began in January 2021, starting with seven partnering regions but expected to include other actors later.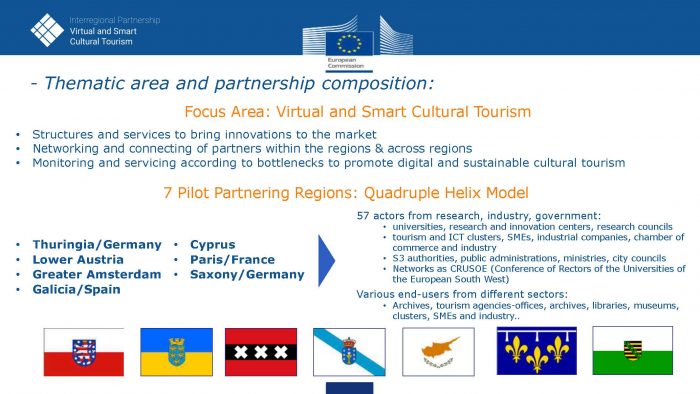 Currently the regions of Thuringia/DE, Saxony/DE, Lower Austria/AT, Cyprus, Paris/FR, Amsterdam/NL and Galicia/ES are cooperating to develop advisory and support structures for cultural institutions such as museums or tourist information offices to get advice and help in establishing new digital formats. The partnership will receive funding and consultancy from the European Commission to finally come up with concrete and adoptable business cases by the end of 2021.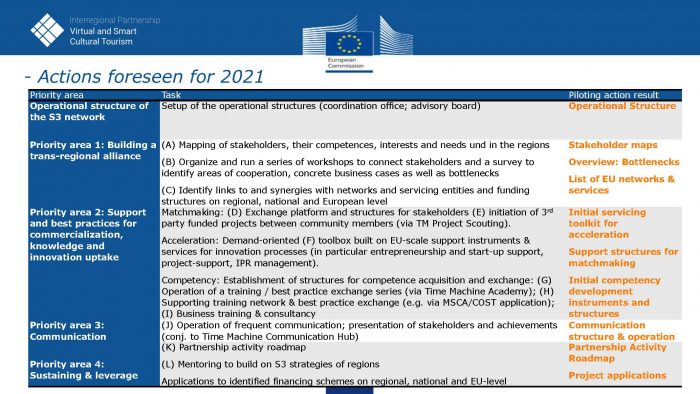 ---
More information: